Mojito
Hemingway's Favorite.
Ingredients:
juice of 1 lime
1 1/2 jigger Bacardi white rum
1 1/2 teaspoon of sugar

splash of club soda
2 fresh spearmint sprigs
crushed ice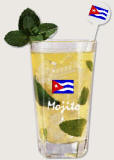 Preparation:
In a tall glass, place 1 fresh spearmint sprig, 1 1/2 teaspoon of sugar and the lime juice. With a long spoon, crush the spearmint sprig and sugar on the button of the glass. Fill with plenty of ice and pour the rum and a splash of club soda. Stir and garnish with the remaining spearmint sprig.
For Mojito glasses and others click here.
For other great Cuban recipes, visit www.cubanfoodmarket.com . Over 3000 Cuban specialties. See our Free Shipping offer.